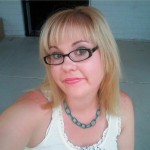 It's funny how much sympathy customers have for me today since I sound like I drank a 50 gallon bucket of Jim Beam and smoked about 100 cartons of smokes. People keep calling me "sweetie" and thanking me profusely for doing my job. I wish every day were like this. And, I sound kind of sexy … if you like chicks who sound like 40 year old meth-heads who've hit brick walls full force with their vocal cords.
I promised to fill you all in on the "shenanigans" that took place the weekend before last. I'm feeling a little less hot on the subject but I can tell you that 1) I got "tow-up-from-the-floor-up" 2) I (at first) involuntarily made out with "TD" and someone else I hardly know. *blush* This lead to someone in the restroom (because "TD" followed us to the unisex restroom) yelling "some of us would like to use the restroom!".
After this incident, I ended up arm wrestling with a GORGEOUS guy with tats and then we "sparred" in the parking lot.
Did I mention I was "tow up"? *sigh* I shouldn't drink in public, it just leads to me wrestling men in public. This… Continue reading →
I've been kicking around writing an entry for a few days now (and had started on quite a good one when my lap top decided deleting the text would be a HOOT) but haven't had quite the energy required to do so. But it's an overcast Saturday, the tunes are blaring via my pink Hello Kitty earbuds and I'm well rested.
So, what's been on this mind these past weeks? Mostly bodily discomfort. This discomfort, woe discomfort, has robbed me of rest and energy, rendering my mind nearly incapable of rational neigh intelligible thought or statement. But here I am, finally some what rested, a bit weary in heart and having made an appointment with my doctor. God, there's no disappointment like the disappointment a doctor can deliver when you're feeling like the gum under King Kong's shoe. Wait, or is that a crushed islander?
*does brief samba*
Here I am, a woman with the body of an elderly sex-pot (hey my rack still looks great!) and with a bit less of the sex life. I kick around my thoughts of health vs success vs loneliness vs the rest of my life. You may ask yourself, what have these things… Continue reading →
I stayed up til 2 am working on a video presentation with limited means. I should have gone to bed hours before but I try to get things perfect, little things, down to the milisecond. I'm insane but you knew that.
It's funny how the combination of the cooler weather, the lack of normal sleep and still trying to get over a little cold has really warped the way the day feels. It feels almost like a weird little anxiety but it isn't anxiety. I have no way to describe this feeling.
In other news, my boss is getting a puppy. (PS. Since I got laid off last October, I got a new job about 4 weeks later with another agency in Phoenix so my new boss is very puppy friendly.)
There are other bits o this and that but for now, I will say only that there shall be a puppy in my midst soon. I kind of like that idea.
– k
There is no excerpt because this is a protected post.
There is no excerpt because this is a protected post.