As some may know, my husband and I just returned from a week in sunny Phoenix, AZ visiting family and friends. What you probably do not know is that recently, we have suffered an interruption in work circumstances which has left both of us scrambling for work. I've been frantically looking at freelance jobs of all sorts, having a varied skill set in office work, insurance and a talent for business writing. You would think a smart gal like me would find something but it's a tough world with a lot of people all scrambling for the same scraps as I am. It's stressful times.
In light of these stressful times, I had hoped a week back home would relieve a lot of the stress and help me gain a fresh perspective on life. I'm 6 months pregnant with my first (and potentially only) child and of course everyone is just as excited as my husband and I are. You can't beat that kind of joy and anticipation. I thought "hey, I'll eat like a horse for a week, relax, enjoy my family and friends and come home refreshed and renewed!"
Mmmm, or not?
Saturday
I'll save the preface for after the dream typing. That's wrong but right now, I don't care. I dozed a bit ago and had a lot of subconscious activity in just the two hours or so I slept. Here's the best I can make out of it.
Continue reading →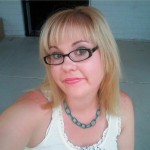 It's funny how much sympathy customers have for me today since I sound like I drank a 50 gallon bucket of Jim Beam and smoked about 100 cartons of smokes. People keep calling me "sweetie" and thanking me profusely for doing my job. I wish every day were like this. And, I sound kind of sexy … if you like chicks who sound like 40 year old meth-heads who've hit brick walls full force with their vocal cords.
I promised to fill you all in on the "shenanigans" that took place the weekend before last. I'm feeling a little less hot on the subject but I can tell you that 1) I got "tow-up-from-the-floor-up" 2) I (at first) involuntarily made out with "TD" and someone else I hardly know. *blush* This lead to someone in the restroom (because "TD" followed us to the unisex restroom) yelling "some of us would like to use the restroom!".
After this incident, I ended up arm wrestling with a GORGEOUS guy with tats and then we "sparred" in the parking lot.
Did I mention I was "tow up"? *sigh* I shouldn't drink in public, it just leads to me wrestling men in public. This… Continue reading →
There is no excerpt because this is a protected post.
"Skittery Pigeon" just left. She came over tonight … and she was early. :-) We got Italian food then stopped for dvds at Block Buster. We picked up "High Tension" and "Dirty Love" (the latter is NOT a porno thank you). "High Tension" freaked us both out so "Dirty Love" was a good diversion.
We had our usual spat at the Block Buster where we argue over who's paying. I bought the movies and she got dinner. We actually had a tug 'o war over "Dirty Love" because she wanted to see it but I agreed to pay for the movies. In the end I was able to wrestle it away from her and hold it close so she couldn't get it. Aftewards, she bought the drinks and ciggies. :-P
We came back to my place, watched the movies and then she went home. I walked her to her car and we talked for a few seconds. She said we ought to get tattoos again together and I agreed. More planning is needed. Then she actually hugged me which she doesn't usually do … she doesn't like hugs much. Then I walked back to my apartment only to notice she… Continue reading →