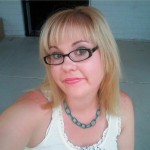 It's funny how much sympathy customers have for me today since I sound like I drank a 50 gallon bucket of Jim Beam and smoked about 100 cartons of smokes. People keep calling me "sweetie" and thanking me profusely for doing my job. I wish every day were like this. And, I sound kind of sexy … if you like chicks who sound like 40 year old meth-heads who've hit brick walls full force with their vocal cords.
I promised to fill you all in on the "shenanigans" that took place the weekend before last. I'm feeling a little less hot on the subject but I can tell you that 1) I got "tow-up-from-the-floor-up" 2) I (at first) involuntarily made out with "TD" and someone else I hardly know. *blush* This lead to someone in the restroom (because "TD" followed us to the unisex restroom) yelling "some of us would like to use the restroom!".
After this incident, I ended up arm wrestling with a GORGEOUS guy with tats and then we "sparred" in the parking lot.
Did I mention I was "tow up"? *sigh* I shouldn't drink in public, it just leads to me wrestling men in public. This… Continue reading →